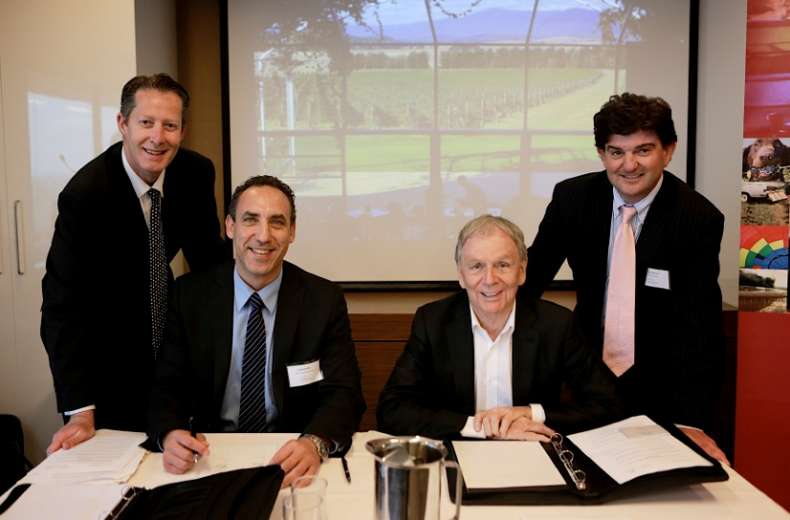 Tourism Australia and Wine Australia sign three-year partnership
International marketing of two of Australia's biggest export sectors - wine and tourism - is set to be bolstered by a new three-year Memorandum of Understanding (MoU) between Tourism Australia and Wine Australia. The three year agreement will see the two Australian Government agencies partner to promote wine and tourism in key international markets such as China, the USA, UK, and Canada as well as Australia from 1 January 2013. Collectively, wine and tourism contribute around $140 billion annually in economic value. As part of the MoU, Wine Australia and Tourism Australia will partner on a range of marketing activities such as advertising and consumer promotions, digital marketing, public relations, and special events. (Photo left to right: Tourism Australia Managing Director Andrew McEvoy; Wine Australia Chairman George Wahby; Tourism Australia Chairman Geoff Dixon; Wine Australia Chief Executive Andrew Cheesman) Find out more.
Tourism Australia campaigns around the globe
Latest national visitor statistics released
The national visitor statistics (NVS) for the September quarter were released on 12 December. The survey found domestic overnight trips, daytrips and expenditure were all up. The Minister for Tourism, the Hon. Martin Ferguson AM MP, said "it is particularly pleasing that Australians spent over A$50 billion in Australia's tourism industry helping support the 500,000 Australians directly employed by tourism." A weaker result was recorded in domestic overnight travel for the September quarter, with a two per cent decrease in trips, primarily a result of a fall in business travel. "The broader domestic picture is still positive - trips up 4.1 per cent, nights up 4.5 per cent and spend up 7 per cent up during the 12 month period," said Tourism Australia Managing Director Andrew McEvoy.

Tourism Australia unveils new logo
Tourism Australia will be evolving its current logo to stay relevant and to reflect the organisation's changing culture and identity. The new logo, which will be progressively rolled out from 17 December, will still feature the iconic kangaroo but with a more modern design and vibrant colourful palette reflecting the rich and varied landscape of Australia. Tourism Australia Managing Director Andrew McEvoy said it was the right time to update the eight year old logo and doing so would complement the recent update to the national tourism organisation's global campaign."Tourism brands the world over, from Australia to Argentina, are continually updating their visual identity," Mr McEvoy said. Find out more.

'Largest ever' Indian corporate incentive group meet in Melbourne
More than 4,000 Indian delegates arrived in Melbourne on Monday for the Amway India Leadership Seminar 2012 in what will be the largest Indian incentive group ever to be hosted in Australia. Melbourne Convention + Visitors Bureau (MCVB) won the rights for the city to host the Amway India Leadership Seminar not only due to its sophisticated events infrastructure, but also the calibre of nearby experiences and attractions. MCVB has been working in partnership with Business Events Australia, the specialist team within Tourism Australia dedicated to promoting the country as a business event destination internationally. Tourism Australia Managing Director Andrew McEvoy said the visit by the Indian delegation was an enormous opportunity to demonstrate Australia's expertise in staging world-class business events. "India is a valuable market for Australian tourism, offering strong future potential for both business and leisure travel thanks to the nation's rapid economic rise through this Asian Century," Mr McEvoy said. Find out more.

Generating tourism investment interest in India
Tourism Australia and Austrade hosted a series of meetings in the first week of December with key Indian industry and investors to outline possible tourism investment opportunities in Australia and the Government's activities to support and attract investment. The investment roundtable involved The Minister for Tourism, the Hon. Martin Ferguson AM MP, senior representatives from Tourism Australia and Austrade as well as a select group of investors from Austrade's extensive network. The meetings were part of a five-year partnership, announced in May this year, between Tourism Australia, the Department of Resources, Energy and Tourism (DRET) and Austrade to promote the many investment opportunities across the Australian tourism industry to foreign and local investors. Find out more.

Business Events Australia announces North Asia road show
Business Events Australia is hosting a North Asia road show in 2013 to provide industry the opportunity to meet with key incentive agents and corporate clients, and gain insight into the latest business trends from this key region. The road show will commence in China from 8-10 April 2013, followed by the South Korea from 11 - 13 April 2013. A prospectus detailing further information will be released shortly. To register interest contact Dee Prendergast, Trade Programs Manager, on +61 9361 1733.

German travellers to be inspired by the best of Australia
Tourism Australia has created a content special on web.de, one of the top four websites in Germany targeting 40-49 year old travellers. The campaign, which runs until 24 December, highlights Australia's unique nature, top lodges, national parks and stunning self-drive touring routes and signature events as great reasons for German travellers to visit Australia.

Australia 'showcased' at International Luxury Travel Market in France
Tourism Australia partnered with Hayman Island, Voyages, The Darling at Star Sydney, Destination New South Wales, Luxury Lodges of Australia, Wolgan Valley, Qualia and Wild Bush Luxury to showcase Australia's luxury offerings at the International Luxury Travel Market (ILTM) in Cannes, France last week. The annual event, held from 3-6 December, saw discerning international luxury travel buyers attend four days of business and networking opportunities. Tourism Australia's stand had 450 appointments in all. Find out more.

Australia awarded silver at British Youth Travel Awards
Australia came runner-up behind Spain for Best International Youth Destination at the British Youth Travel Awards in London on 6 December. In addition STA's 'Live like an Aussie' campaign - delivered in partnership with Tourism Australia, Western Australia, South Australia, Victoria, Northern Territory and New South Wales - received bronze for Best Marketing Campaign. The event was hosted by the British Educational Travel Association aiming to recognise the work and individual success of organisations engaged in youth, student and educational travel, to, from and within the UK. The awards were carefully selected by a panel of five judges, including a representative from Google UK and Qatar Airways. Find out more for a full list of awards.

Top Travel promote grand tour in Australia in China

Chinese celebrity couple and new Friends of Australia Ms Yuan Quan and Mr Xia Yu, visited Sydney, Uluru and Perth in October with Top Travel, one of the most influential China travel magazines with a circulation of 480,000. Tourism Australia is currently working with Top Travel on a post tour consumer promotion through multimedia channels in China. This includes a cover story in the magazine which has already been published, a radio interview on China Radio International with more than three million fans and edited footage to be unveiled through popular social media sites Youku.com and Weibo from late December.
New CEO for Tourism Queensland
Steven Wright started with Tourism Queensland as CEO on 10 December. Tourism Queensland will be merging with Events Queensland and Mr Wright's role will transition to the position of CEO of the new entity, Tourism and Events Queensland (TEQ). The creation of TEQ and Mr Wright's appointment will bring about a fresh approach that will enable the organisation to take advantage of new opportunities to reach the Government's goal of increasing tourism expenditure to A$30 billion by 2020. Find out more.

AFAR Experiences 2013 to take place in Sydney
AFAR Media, a multi-platform travel brand, has announced plans for the third event in its Experiences series, will take place in Sydney on 6-9 May 2013. Experiences Australia will be brought to Sydney in partnership with sponsors Tourism Australia and Qantas Airways. A select group of travellers will join AFAR editors and senior staff for a four-day experience that will include engaging talks and presentations from some of Australia's most respected historians, indigenous leaders, designers and business icons. Visit AFAR Experiences for more information. Early registration is available at a discount until December 15, 2012.
Plan revealed to transform Sydney's Convention, Exhibition and Entertainment Precinct
Destination Sydney and the NSW Government announced on 11 December new plans to develop Australia's largest convention and exhibition facilities, entertainment venue, and hotel complex of up to 900 rooms. Planned to open in late 2016, Premier Barry O'Farrell said the transformation of a 20-hectare precinct at Darling Harbour, stretching from Cockle Bay to Haymarket and Ultimo, would generate about A$5 billion in economic benefit for NSW. "Along with the development of Barangaroo, this project will transform the western fringe of Sydney's Central Business District and is the biggest and most exciting change to Darling Harbour in 25 years," Mr O'Farrell said. Find out more.
Industry Briefings 2013
Industry Briefings dates for the Northern Territory, Western Australia and Victoria will be released in the next Essentials newsletter. For past Industry Briefing presentations, please visit Tourism Australia's website.

Tourism Australia to relocate to new Sydney office
On Friday 14 December the Tourism Australia Sydney Headquarters will be relocating to 420 George Street, in the CBD of Sydney. During the move the Tourism Austrlia head office will be closed and phone lines will be out of service for the day. Tourism Australia phone lines will reopen on Monday 17 December from 11am. If you wanted to contact one of our international offices or a member of our media relations team directly, please visit our website, tourism.australia.com, for details.


December Aviation Newsletter
International capacity to Australia increased 2.4 per cent during September 2012, slightly stronger growth than previous months (+1.8 per cent in July and +2.0 per cent in August). Capacity from Singapore and Malaysia boosted the September result. While growth from China has moderated slightly, it continues to assist overall growth. Find out more in Tourism Australia's December aviation newsletter.