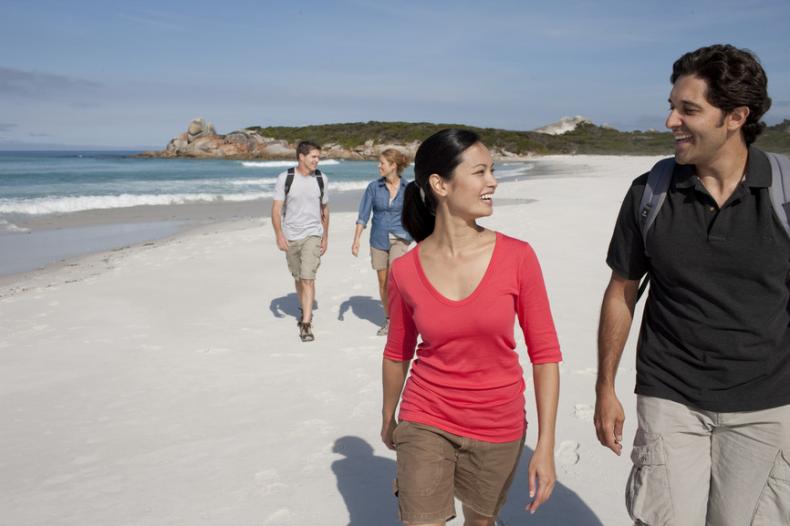 Strong growth in visitor numbers in 2012
Australia's overseas arrivals have continued to grow strongly through the end of the year, recording seven per cent growth in December 2012 to reach 6.1 million visitors in 2012. Tourism Australia Managing Director Andrew McEvoy said that to achieve 6.1m international arrivals and annual growth of 4.6% was a very creditable performance, against the backdrop of a fiercely competitive global tourism marketplace, a persistently high dollar and economic stagnation in a number of Australia's key traditional source markets. "In many ways, 2012 was a year of transition for our industry, as we continue to adapt to the Asian Century and the enormous opportunities provided by the region's fast emerging and increasingly mobile middle classes," he said. View the December 2012 ABS arrivals data and read a press release from the Minister for Tourism, Martin Ferguson AM MP, about the strong overseas arrivals figures.
Tourism Australia campaigns around the globe
Sichuan Airlines will commence flights between Chengdu and Melbourne
The first direct flights between Australia and western China are now a reality following regulatory approval for Sichuan Airlines to commence services to Melbourne at the end of February. Tourism Australia Managing Director Andrew McEvoy welcomed the news."With a population of almost 15 million people, Chengdu represents one of China's fast emerging secondary cities. And as the largest aviation hub in central western China, it has huge potential for us to open up new markets within China," Mr McEvoy said. Find out more.

Competitive Emirates to airfares attract German travellers
Tourism Australia in partnership with Emirates Airlines and the South Australian Tourism Commission has launched a campaign to drive awareness to the new Emirates service between Germany and Adelaide. The campaign, which launched in January and will run until 28 February, aims to motivate German holiday makers to visit South Australia with travel deals by tour operator Meier's Weltreisen included in the campaign. Find out more.

French travellers "découverte de l'Australie" online
Tourism Australia and Tourism Victoria have launched a joint campaign on popular French women's website www.elleadore.com showcasing Victoria and Australia with an online quiz. French travellers are invited to discover Australia through the a specialist campaign page on the site which is focused on fashion, beauty, design and travel and had around 850,000 registered users. The campaign, launched on 22 January, will run for two months and is also being promoted through Australie Tours, a French tour operator which specialises in Australia.

ATE product update forum in Malaysia

Tourism Australia has held a product update forum for participants of the Australian Tourism Exchange 2013 in Malaysia. Buyers were briefed on the new format and opportunities to engage new sellers who were previously only available to Western markets. The forum was followed by a Chinese New Year appreciation lunch with key partners from airlines, travel agencies and media. The partners were also introduced to Karyn Kent, Tourism Australia's new Regional General Manager for South/Southeast Asia & The Gulf, who announced some of the great results from Malaysia for 2012.

Australia Day celebration in Hong Kong

Tourism Australia celebrated Australia Day with more than 400 guests on 28 January at the Grand Hyatt Hong Kong. The event was officiated by Mr Paul Tighe, Australian Consulate General Hong Kong and guest of honour, Mrs Carrie Lam GBS, JP, Chief Secretary for Administration of HKSAR. Guests from leading business, political, cultural and other community figures as well as the travel industry were encouraged to bring their families and business groups and be inspired by the Australia experience.

Tourism Australia and Qantas launch US campaign
Tourism Australia and Qantas have launched a four-month marketing campaign in the US following the momentum of positive growth in visitor numbers to Australia. The campaign includes content and advertising with Travel Channel's series Trip Flip and a broader digital advertising campaign focusing on affluent travellers. The second half of the campaign will run from February to April focusing on travellers' passion points and will include The Travel Channel broadcast and digital media. Find out more.

Tourism Australia wins German travel award
Tourism Australia won the sole award for National Tourism Organisation at the annual Globus Award Gala hosted by German trade publication touristik akutell on 31 January. Over 1,000 German travel agents voted Tourism Australia the tourism board with the Best Travel Agency Service. The award is a great endorsement from travel agents for the Aussie Specialist Program as well as the excellent work of Tourism Australia's Frankfurt, London and Sydney teams.

Malaysia celebrates Australia Day

'Australia Unlimited' was the theme of Australia Day celebrations hosted by the Australian High Commission in Malaysia showcasing the achievements of the people of Australia from a variety of backgrounds. Tourism Australia's tribute video to the classic song 'Great Southern Land' set the scene for an evening where guests were also treated to beautiful visuals of Australian landscapes and its people. The event was hosted by the Australian High Commissioner to Malaysia, His Excellency Mr Miles Kupa and his wife, Ms Zuly Chudori. Representing the Malaysian government was YB Senator A. Kohilan Pillay, the Malaysian Deputy Minister of Foreign Affairs and several hundred guests from the government, diplomatic corps, media and business sectors also attended.

Australia Day in Korea

Australia's food, culture and diverse people were celebrated in Korea on Australia Day with an event at the Grand Hyatt on 24 January hosted by the Australian Embassy Seoul. Tourism Australia had a booth presenting 'There's nothing like Australia' mobile and tablet app and the Australia.com website and was thanked by the Australia Embassy Seoul for contributing to an outstanding event.
Queensland tourism open for business
Queensland tourism will be encouraging Australians to celebrate 'Australia Day II' across the State on 23 February. Queensland's Minister for Tourism Jann Stuckey said an advertising campaign would be launched this weekend which celebrates the Queensland spirit and urges Australians to show their support and holiday in the State."Many holiday destinations were untouched and while others are on the road to recovery this campaign reinforces that the best way you can support the industry is by taking a holiday in Queensland" said Minister Stuckey. The Australia Day II message will roll out in print, online, TV and radio across the country in coming weeks. Find out more.

South Australian Tourism Commission appoints new CEO
Rodney Harrex will take up the position of chief executive at the South Australian Tourism Commission on 8 April. Rodney is currently based in London as the head of Tourism Australia's UK and Northern European operations. Tourism Australia Managing Director Andrew McEvoy described Mr Harrex as a great collaborator and communicator."Rod knows this is a partnership business and will bring his global experience and strong personal contacts to the SATC. He understands how the industry works and the quality of South Australia as a destination and will be able to put these two things together," Mr McEvoy said. Find out more.

Etihad announces daily flights between Brisbane and Singapore

Etihad Airways, the national airline of the United Arab Emirates, will commence a new schedule of daily flights between Abu Dhabi and Brisbane via Singapore. To mark the occasion Etihad operated 'Blue Moon Rising' – its Airbus A330-200 painted in Manchester City Football Club colours on the commemorative February 1 flight. James Hogan, President and Chief Executive Officer of Etihad said the new daily service would add an extra 1048 seats a week to the Abu Dhabi-Singapore-Brisbane route.

China Southern flies to Cairns
Tourism in North Queensland is set to benefit from a three times a week service between Guangzhou and Cairns from China's largest carrier, China Southern. The Minister for Tourism, the Hon Martin Ferguson AM MP, welcomed the inaugural flight. "This new service by China Southern strengthens aviation links with the region and will help Australia tap into the potential $9 billion spend from Chinese visitors by the end of the decade identified in the Tourism 2020 strategy," Minister Ferguson said. Find out more.

New tourism and hospitality workforce development initiative
The tourism and hospitality industry has been strengthened through the establishment of Workforce Futures, a new workforce development initiative worth A$11.8 million. The program funding has been provided through both industry contribution and from government through the National Workforce Development Fund. A true industry driven partnership approach has made this initiative a reality though the work done by Service Skills Australia (SSA) who manage the project. Find out more.

Business Events Southeast Asia Showcase
Business Events Australia invites you to be part of the Southeast Asia Showcase 2013. The event will provide an opportunity to meet with incentive agents and corporate clients and gain insight into the latest event trends from this region. The showcase will take place in: Singapore 9 – 10 May; Jakarta 13 – 14 May; and Kuala Lumpur 15 - 16 May. A prospectus detailing further information will be released shortly. Further information, or expressions of interest please email Dee Prendergast, Trade Programs Manager. Find out more.

Business Events Week
Melbourne will host Australia's inaugural Business Events Week from Monday 25 February to Friday 1 March. Organised by the Melbourne Convention + Visitors Bureau (MCVB), Business Events Week is a week-long program of activities designed to showcase the value of business events to both Victoria and Australia. Find out more.
Sydney cruising to another record year
Sydney's thriving cruise industry hit another all-time high this month with a record 36 ship visits scheduled for the 28 days of what's become known as super February. Minister for Roads and Ports, Duncan Gay said the number of cruise ship visits this month will surpass the previous record of 33 set during the 29 days of February 2012. Find out more.

Qantas Australian Tourism Awards
The Qantas Australian Tourism Awards will be announced at a gala presentation and dinner in Hobart on 15 February 2013. The Awards are recognised by both consumers and industry as a mark of excellence in Australian tourism. The evening will see the announcement of the Gold winners from the 27 national categories as well as the prestigious Silver and Bronze awards. Bookings close 7 February. Find out more.

Tourism Australia Industry Briefings in NT, WA and VIC

Tourism Australia will hold briefings for industry in Perth (Tuesday 12 March), Darwin (Wednesday 20 March) and Melbourne (Tuesday 26 March) which will provide an overview of the marketing agency's activities, market and consumer insights, business events activity and partnership opportunities. In collaboration with the Department of Resources Energy and Tourism and Tourism Research Australia, progress against Tourism 2020 will also be provided. Registration is now open online for the free-of-charge half day briefings.

USA Inaugural Australia Tourism Summit
Tourism Australia has built on the momentum of recent growth in visitor numbers from the USA to Australia by hosting the inaugural Australia Tourism Summit to support the US travel industry to market and sell Australia effectively. To view all presentations from the day, please visit Tourism Australia's website.