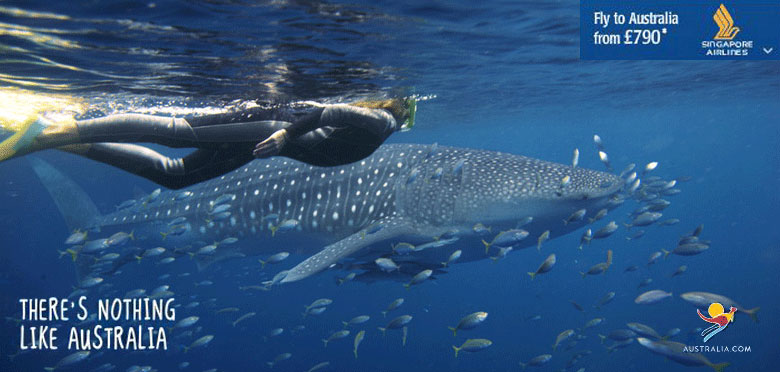 Big splash in the UK with Singapore Airlines
A new TV and digital campaign showcasing Australia's unique nature, incredible coastal landscapes and fantastic food and wine experiences was launched on 7 February in the UK. Audiences are directed to a dedicated page on Australia.com with inspirational videos as well as information on the comfort and style of flying to six Australian destinations with Singapore Airlines. Tourism Australia has partnered with the South Australian Tourism Commission, Tourism Western Australia and Tourism Northern Territory on the promotion making it a great example of Australia's tourism agencies 'speaking with one voice' in market.
Tourism Australia campaigns around the globe
Tourism Australia Industry Briefings in NT, WA and VIC

Tourism Australia will hold briefings for industry in Darwin (Tuesday 12 March), Perth (Wednesday 20 March) and Melbourne (Tuesday 26 March) which will provide an overview of TA's marketing initiatives, market consumer insights, business events activity and partnership opportunities. In collaboration with the Department of Resources Energy and Tourism and Tourism Research Australia, progress against Tourism 2020 will also be provided. Registration is now open online for the free-of-charge half day briefings.

Tourism Australia launches promotional campaign in India

Adopting the 'One Voice' approach, Tourism Australia has teamed up with Tourism & Events Queensland and the South Australian Tourism Commission as well as trade partners Singapore Airlines and SilkAir on a promotional campaign offering Indian travellers great fare deals to Australia. The promotion will be advertised in print and on television and radio during the key booking period for the Indian summer travel season. Singapore Airlines is a leading carrier for travel to Australia with its network across India providing 112 weekly flights on the India to Australia route. The promotional Economy class fare will be available for travelers from 11 cities in India to the six major Australian cities of Adelaide, Brisbane, Darwin, Melbourne, Perth and Sydney.

Trade partners in Singapore gear up for ATE 2013

Tourism Australia and State and Territory tourism organisation (STO) partners recently held a product development forum to help 34 trade partners in Singapore gear up for ATE 2013. The event was part of the overall strategy to enhance product development of Australian tours and provide agents with new ideas to develop exciting and innovative itineraries for their clients. Agents also received updated on new products that will be showcased at ATE 2013. The full-day event was supported by seven STOs and presented an opportunity for Tourism Australia to update trade partners with the latest industry developments.

Australia the scenic backdrop to new Singaporean movie

Tourism Australia is supporting the filming of the movie "3 peas in a pod" in Australia as part of a branded content initiative from Singapore. The romantic comedy/drama features three international students embarking on a road trip from Melbourne to Kangaroo Island at the end of their studies in Australia. The movie has attracted plenty of media coverage to date across major broadcast, print and online channels and Tourism Australia has been working with the film's stars and director to share their experiences and perceptions of Australia whilst in production. Scheduled for distribution across Asia, with a cast of Singaporean, Taiwanese and Korean leads, the film will provide a compelling platform to showcase Australia's stunning scenery and cosmopolitan cities.

Youth market travel trends
Tourism Australia released on 12 February the latest Travel Trend report (year ending September 2012), which provides informtaion on arrivals and travel trends for youth travellers. Tourism Australia is committed to the youth market and will be highlighting these unique experiences across Australia in it's upcoming global youth campaign. Find out more.
New quarterly research update
Tourism Research Australia (TRA) is now producing quarterly updates with the first issue published in January. The update provides a summary of how the tourism industry has performed during the previous quarter. The report also includes a range of TRA publications such as the International Visitor Survey (IVS), National Visitor Survey (NVS), Country's economy, Tourism 2020 update, and the state performance for both international and domestic tourism. Find out more.

Departure of the Secretary of the Department of Resources, Energy and Tourism
Mr Drew Clarke PSM was appointed the new Secretary of the Department of Broadband, Communications and the Digital Economy on 8 February. Mr Clarke will be leaving his role as Secretary of the Department of Resources, Energy and Tourism (RET) after almost three years of service. The Tourism Minister, Hon Martin Ferguson AM MP commented on Mr Clarke's appointment: "The contributions Drew has already made to public policy have been impressive, including his work in spatial data, the establishment of the National Offshore Petroleum Safety and Environmental Management Authority, and driving an economic agenda for the tourism industry. I know that the staff of RET will greatly miss his expertise and steady hand, as will I." Find out more.

Australia's inaugural Business Events Week
The Business Events Week Bulletin, has been developed to promote upcoming activity at Australia's inaugural Business Events Week from Monday 25 February to Friday 1 March in Melbourne. In this week's edition the Melbourne Convention + Visitors Bureau reveals Melbourne's recent success in winning six major conferences, new digital developments for the Asia-Pacific Meetings & Incentives Expo are explained and more.

Jetstar to fly to Ayers Rock
Jetstar announced on 11 February the introduction of direct flights between Sydney and Ayers Rock (Yulara) commencing on 4 June. Jetstar will fly to Ayers Rock four times a week, replacing Qantas' existing daily services with a higher capacity aircraft, the Airbus A320 providing 1400 seats every week. Qantas will continue to operate direct daily flights to Ayers Rock from Alice Springs and Cairns. "These new arrangements with Jetstar will open up Ayers Rock to a wider leisure market, while flights going via Alice Springs could lead to more customers deciding to have a stopover there too," Northern Territory Tourism Minister Matt Conlan said. Find out more.

February Aviation Newsletter
International capacity to Australia increased 3.7 per cent during November 2012, similar to growth reported in previous months. Capacity from Singapore and Malaysia continues to boost overall growth, while growth from China has moderated slightly. Find out more in the February edition of Tourism Australia's aviation newsletter.
$100 million events centre opens in Sydney
A new multi-purpose venue has officially opened on the rooftop of The Star to host a range of events and functions including domestic and international meetings, seminars, trade shows and exhibitions, functions, gala dinners, award ceremonies and special events. Find out more.

Tiger Airways adds four new routes
Tiger Airways has announced the addition of four new domestic routes: From both Sydney and Melbourne to Alice Springs commencing 9 April; between Melbourne and the Sunshine Coast effective 27 March; between Sydney and Cairns from 4 April. Find out more.