When is it OK to send out SMS for your business purposes?
Few things in human history have made such a social impact as the evolution of the mobile phone. If you drive by a bus stop these days, you can pretty much bet that everyone will have their eyes glued to their mobile. A recent study suggested that on average we check our mobiles over 80 times a day. This makes the mobile phone a very attractive means for business to communicate with clients.
Receiving an SMS though feels very personal. So its use for business purposes needs to be carefully thought out. Sending out unsolicited marketing SMS can be very counter productive. So when is it OK to send out an SMS for your business purposes?
You only have to look at some of the irate replies to some SMS's, to realise just how true the counter productive statement is. So as a first rule we would always suggest that you keep your business based SMS to people that you already have some form of relationship with. But keeping in mind the good old saying "you can't please all the people all the time", there are some very valid reasons to do it.
To advise of account based information

Second level account authentication

Alerts for business critical events

Advice of events that are relevant to the recipient
It's this last one that if you are careful with, can have a very positive affect on your business. Again as stated above, remember that SMS is still felt as a very personal thing. So to include the persons name in the SMS is a good start, as it at least shows that you respect it as the recipients personal space.
The next thing is to keep it low key. Don't try and oversell it. Remember it's a personal space.
If you stick to the 3 basic rules of have a relationship, make it personal and keep it low key, then SMS can really work as a marketing tool.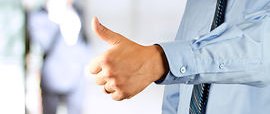 Big users of SMS
If we take a look at a couple of the bigger users of SMS for business we can get a better understanding of where it really works.
Real Estate - We work very closely with RPOffice and provide a number of real estate businesses with SMS solutions. Here we see alerts to rental arrears as well as advice on properties coming up for sale that may be of interest to prospective buyers. Your home is a very personal space, so using SMS in this environment fits nicely.
Clubs - If you are a member of a club then it is more than likely to be a personal membership. Advising your membership of coming events, or special offers, especially if you include the members name in the message, can get great results.
Utility companies - None of us wants to be hit with a late payment fee, and the utility companies would rather have your bill paid on time for their cash flow. So advising customers of a bill becoming due and when to pay either to avoid a late fee, or to get an early payment discount, is another nice fit.
Travel - If you've booked a ticket to travel, a reminder that your travel is on time, or running late can be a nice touch that can be easy to implement and a cheap way of providing that extra bit of personal service.
The above examples are just a couple of samples of industries that have already discovered a suitable use for SMS in business. That does not mean they are the only instances, but they offer up good examples of where SMS can work very nicely.
To see some of the SMS solutions that PRODOCOM can offer see our Solutions page.
If you think that we may be able to help you with SMS, or want to discuss a possible application, please call us on 1300132 739. We've been providing SMS solutions for nearly 20 years now.
RCS - "Rich Communication Services"
While we are talking SMS let's cover off RCS. There has been some talk of this replacing SMS with the ability to make it truly interactive and allow pictures. This of course makes it much more attractive for business use.
Like most things, there needs to be a defined standard for everyone to apply, for it to become mainstream. Think of the Beta and VHS video recorders, or in more modern times Blu Ray and HD DVD. VHS becoming the default video tape format and Blu Ray becoming the default High Definition DVD standard. At this stage with RCS, Google have their version, Apple are trying to come up with their own and some of the handset manufacturers are trying their own. While this lack of unity exists, it is hard to see RCS becoming mainstream anytime soon. We know that Telstra and Samsung are putting a fair bit of effort in this space, while Vodafone and Optus are really only dipping their toe in the water. However it seems that everyone is waiting to see if Apple will implement the Google version of RCS, or stick to their own. Because it is Google and Apple we're talking about, just about anything can happen!
We are already involved with a beta RCS program looking at all variants, so that when it becomes mainstream and you want to use it, we will be ready and have it available.
If you'd like to dicuss anything covered in this Email,
please call us on 1300 132 739
Filed Under: Products