CAMPAIGN BOARD
Automate messages based on set conditions being met and take your audience on an automated journey.
Create an initial message.
Can be Email, SMS or a mix of both... more message types to come.
Based on activity from the initial message, set other messages to automatically follow.

Email

A link has been clicked - set different associated messages for each link in your initial email
The email was opened
The email was not opened
The email was delivered
The email was not delivered

SMS

The SMS was delivered
The SMS was not delivered

Set conditional messages to go out based on the activities from other conditional messages... no limit.
Initial message can be sent based on a list, or on a database entry.
Automatically qualify leads by taking your audience on an automated journey.
No extra charge for using Campaign Board. We only charge for the messages we deliver.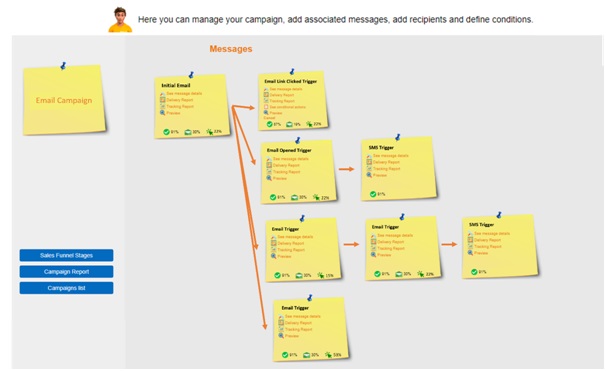 If you already have a login with us, then you have access to campaign board. It's simple to use and very effective.
Simply create your initial message. Everything looks very much like creating a message does now under the send option. Then "add an associated message" and set the condition to be met for the associated message to be sent. As you can start to see from the screenshot above, you can add as many associated messages as you like.
Reporting
If you use the Campaign Board for sales activities, watch your leads qualify themselves. As they work their way down the chain of messages, reports come in and you can literally watch your leads qualify themselves.
Database
With your login to our website you have access to our online CRM for FREE. The "contacts" option gives you an address book. You can even create your own database fields as well as use the online tools to work your leads.
We can set up processes to automatically import your leads into your contacts, which can in turn automatically kick off conditional messages.
Example: As leads come in from social media marketing, they get imported into the online address book using the custom database fields. As soon as an entry is imported that has "Google" or Facebook" in the social media custom database field, a set of email messages is triggered to further qualify the lead. When you know the lead is genuinely interested and has intent through the reporting, you can take appropriate action.