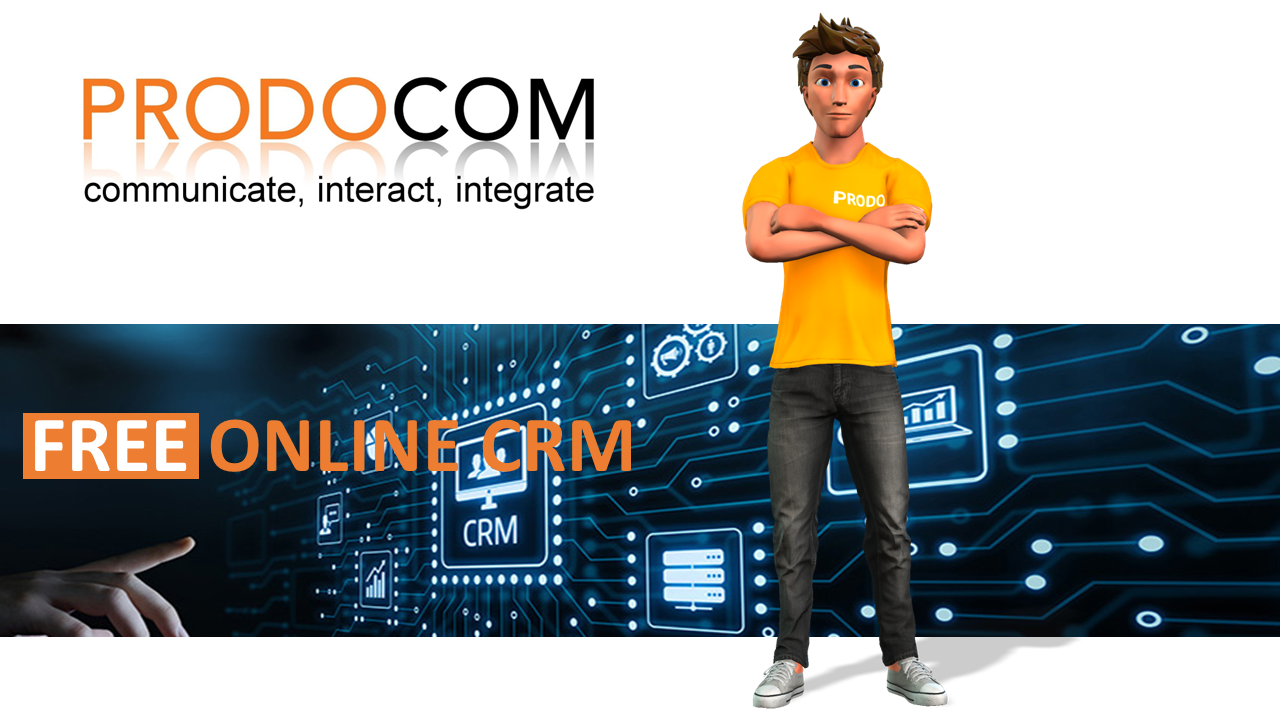 Free CRM Software for all of your Business Needs
Managing your client base is more than just knowing who they are and what they do, it's about staying connected with them, understanding their needs and ensuring you stay front of mind.
This means that you need to communicate with them and ensure that you keep records of those communications to refer back to and better understand what you need to do to either keep their business or increase it. There is nothing worse than losing a good client because you simply were not aware of what was going on, who was making decisions and the competition got a jump on you.
To do this you need a good CRM – relationship Relationship Management. This is not just a set of procedures or good staff, although both are important, at the core of your strategy should be a CRM database and the tools to manage the records accordingly. Although we are a communications business, PRODOCOM does offer a free online CRM that has the tools and flexibility to more than satisfy the needs of most businesses.
Ensuring that you maintain regular contact without being annoying is important. Being able to record conversations and agree on a schedule for further communications thus becomes paramount. Making sure that you know who is who within your client, so you are sure of talking to decision makers and not just a point of contact, is also important. More often than not decision makers are completely different to those putting the plans into operation. Recording all communications whether a phone call, email, SMS, MMS, Voicecast or fax and seeing the reports for those communications, helps build a better understanding and hence helps you position yourself where you need to be to maximise any opportunity.
With sales opportunities that arise, it is important that you understand any red flags that stand in your way and you work out how to address those and turn them into positives and not negatives.
If you want to sell ice to an Eskimo, not only do you need a good reason why an Eskimo needs the ice, but you'd better make sure that you are talking to the right Eskimo!
PRODOCOM's free online CRM addresses all of these and much more.
To help you identify the who's who within an organisation there is an organisational chart that you can expand as far and wide as you need. Do you know who the decision makers are? Have you had any contact with them? From the organisational chart you can map who's who and see what communications you have had with them.
You can keep a record of all calls. You can set meetings along with agendas and opportunities you wish to address within those meetings. Set tasks whether it be to schedule your next call, a meeting or send information. For those bigger opportunities you can create a "Bluesheet" where you can map out the clients needs, who the decision makers are, where you have a "red flag", who the competition is and how you are going to beat them. Of course, in most of these it's about identifying and then looking at them to work out where you need to put your effort in.
As we are a communications business you can send an email, sms, mms, fax or voicecast directly from the client's records. Reports for those communications available from the client's record. This includes email tracking, so you can see at a glance which emails they open and what links they click.
A key element is the ability to define your own fields within the database. Thus, no matter your business, you can create a CRM database that works for YOU. Create fields that will automatically trigger set communications should set criteria be met. It's flexible, it's free and it's here at PRODOCOM.
You can download a guide for our CRM here or call us on 1300 132 739, we're here to help and always available to talk with you.