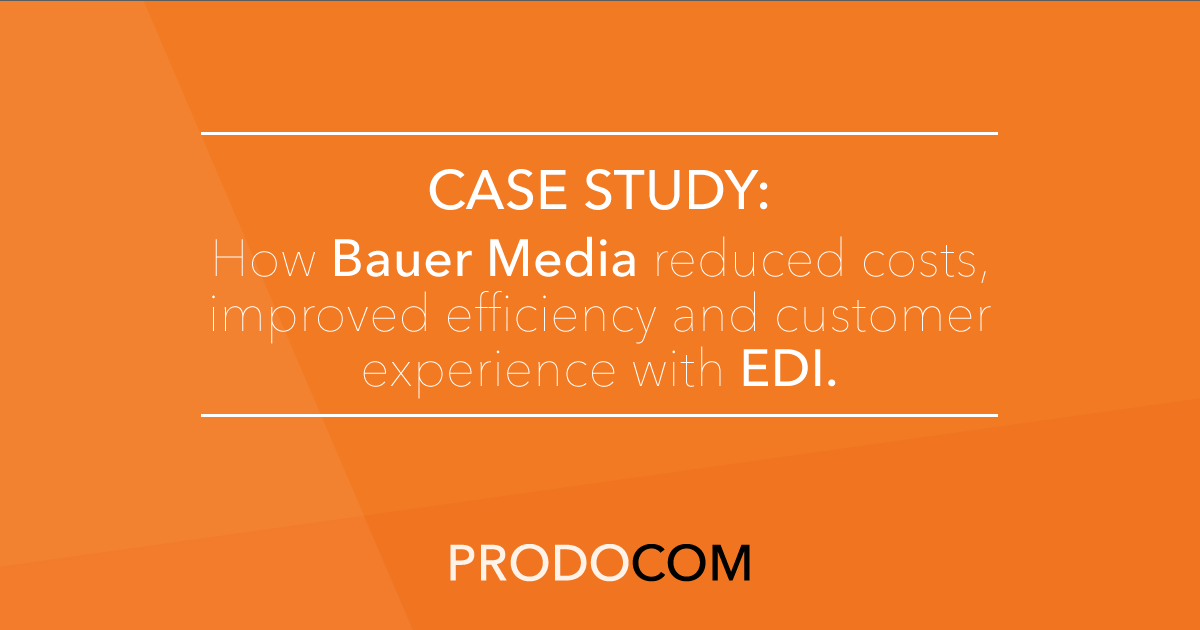 | | |
| --- | --- |
| | Case Study: Bauer Media EDI SOLUTION |
Bauer Media have been PRODOCOM's client for some time. We recently caught up with Nathan Sutcliffe, Bauer Media's IT Programme Manager - Finance / P&C / People Services to find out about how PRODOCOM's EDI Solution has helped their business. Here's what he had to say.
SITUATION:

What was the situation for needing an EDI product? What issues were you having or how did you need to improve your processes?
We had old manual legacy order to cash functionality, particularly around customer contact and payment collection. There were some 20-30 people employed in the manual processes of the legacy system, so we needed to improve efficiency at the same time as reducing cost.

We needed a customer portal to enable customers' self-service for invoice/statement viewing, management of queries and payment/collection processing. We needed to ensure that the system we moved to was compliant with PCI (Payment Card Industry Data Security Standard).

What was your process before EDI?

We posted out invoices and statements, and called by phone to collect payment, often via credit card. This was a very manual and time-consuming process with a large overhead in staff.
What did you know about EDI technology?

We have a lot of experience with EDI, but had not yet developed or sourced a solution in the 02C/Finance areas of our business. We needed a solution that was quick to market.


SOLUTION:

What research did you do? What led you to PRODOCOM?

We'd seen the PRODOCOM solution in development to tie into another business' Peoplesoft application, and it contained all the features we needed. It could be implemented quickly and cost effectively.
We'd also dealt with Prodocom prior to this for email distribution, so the relationship was strong.

What was it like working with PRODOCOM? What steps were taken to implement a solution that addressed your needs?

The team at Prodocom maintained a practical, honest, pragmatic and 'can do' attitude. We were impressed at how simple it was to connect the portal with a payment gateway without the need for significant resources. Configuration to allow for business unit reporting was key in design and implementation.

Please outline what your processes look like now using EDI?

Efficient. Invoices and statement are sent via SFTP to Prodocom, emailed to customers with a link to the document, and loaded onto our branded customer portal. It's now effortless for customers to receive, manage, investigate and pay their invoices.

How has this helped your organization?

We've removed a large amount of manual processing and ensured that customers reliably receive their documents and are able to pay. Because our customers can self-serve this not only saves us time, but also enhances our customers' experience. As a result we had a reduced requirement for queries on our AR team.

In what specific ways have you seen improvement in efficiency, debtor days, clarity, others?

There's no "lost in the mail" issues now - we know that our customers have received our emails given the reporting in place, so that was a significant improvement in itself.

What would you say to others in your situation?

If they are in the same manual position that we were, then there is huge benefit to automate via Prodocom's EDI Portal solution. Outsourcing the O2C function and the manual processing would have added significant risk.
By implementing the Prodocom solution our O2C process is now more efficient, has less errors and creates a better customer experience. It's also a solution that's PCI and APP compliant.

NEED TO IMPROVE YOUR CUSTOMER CONTACT AND PAYMENT COLLECTION?
Talk to us about how PRODOCOM's EDI solution could work for your business or organization.
Contact Stephen Murphy on 1300 132 739 or email info@prodocom.com.au
Filed Under: Industry